A Servant's Heart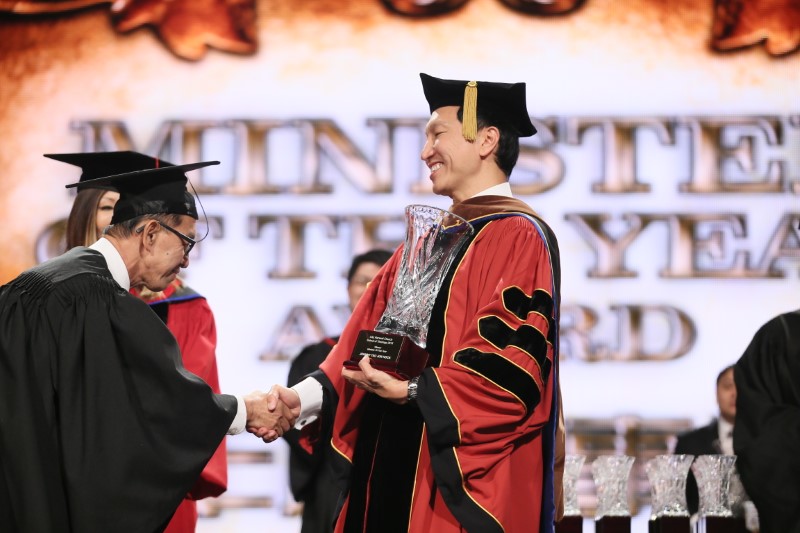 Beneath the spectacles and soft voice lies a humble man who exemplifies a servant heart and lives out a spirit of excellence. Meet Johnny Teo, School of Theology 2015's Minister of the Year.
By Michelle Heng
Affectionately known as Uncle Johnny, 57-year-old Johnny Teo runs his own logistics business and has been married to Angela for 23 years. Together, they have three children—Gabriel, Christine and Benedict ages 20, 18 and 10 respectively.
Fresh from a 9-day anniversary honeymoon in Taiwan, Uncle Johnny shared about the hospitality of the Taiwanese students he befriended in SOT. "They brought us around to eat and sightsee, and those who had vehicles even drove us around. We didn't plan for that to happen, but the Taiwanese brothers and sisters were insistent. So we were very blessed."
This loving hospitality is testament to the seven months of sowing that Uncle Johnny had carried out in the lives of his classmates, particularly, the international SOT students. Two weeks into SOT, he started ferrying all the international students from the hostel to church in his mini van. With the first trip at 7.30am, Uncle Johnny would make six to seven such trips every morning. After class, he would make two to three trips ferrying the students back to their hostel.
"Initially, when the thought of ferrying the students first crossed my mind, I was very unwilling and reluctant. I made excuses to God, like I had to rush off to work after class, or there would be a traffic jam from my place to Jurong and I might cause the students to be late. But God kept speaking to me, and I felt I had to obey. I also wanted to help the students who did not have much money and had to walk to and from the church every day. Walking would take them 30 minutes each way, but driving would be much faster. I believed that God had given me this ministry to serve them, and He would provide for me, not shortchange me. Indeed, I have been more blessed to serve them. All my worries were unfounded!"
With this attitude of obedience and humility, Uncle Johnny faithfully ferried the international students daily. He also helped SOT to transport gowns and handle logistics whenever bigger vehicles were required, and even personally chartered two forty-seater buses to send the international students to the airport after graduation, all at his own expense. On his birthday in September, he decided to open up his house for 40 to 50 students to gather for fellowship.
"Especially for the international students who sacrificed a lot to come here, I wanted to do my part to help God's people serve His Kingdom purpose. I help out in whatever capacity I can because it is the City Harvest Church (CHC) DNA—to find a need and meet it, to find a hurt and heal it. I consider it a privilege and honor to be able to serve them, and that is my greatest blessing from going through seven months of SOT."
Encouraged by his wife, who attended SOT in 2012, along with other church members, Uncle Johnny took a step of faith to enrol in SOT 2015. "I was very concerned about finances, because all three of my children are still studying, and all my income is just enough for the five of us and my business costs. It was a challenge for me to decide to use part of my income for SOT, and to work only half day instead of full day."
Baptized at a young age, Uncle Johnny rededicated his life to Jesus at age 30, and made CHC his home church in April 2015, thereafter finding a renewed purpose in SOT. "My main objective for attending SOT was to deepen my relationship with Jesus. As I experienced Him daily, I realised I wanted my life to be a sweet-smelling aroma unto Jesus. I pray that God open my eyes to see where there are needs and hurts."
Uncle Johnny also shared about one person he considers his role model. "I look up to Pastor Tan (Ye Peng). His life and teaching is based upon wisdom from God's Word. He has an inner peace and strength that keeps him unshaken despite what he is going through. In a recent service, he mentioned something that impacted me: We have to experience and know God in this process, to surrender to His will without complaints."
On a lighter note, Uncle Johnny found the exams, sermon preparation, book reviews and mock cell group meetings most memorable. Feeling stressed, inadequate and ineloquent, he had to work extra hard in the nights after work, sometimes sleeping at 3 a.m. "I was not used to studying so much. But I survived by leaning on God!" he said with a laugh.
Since graduating from SOT, Uncle Johnny is looking forward to serving more in the Chinese Church. In this trying time, he shares an encouragement: "Keep walking with God even in the valley times, and we will see His hand even more. I believe CHC will be stronger in evangelism and missions. To the SOT 2015 graduates: Continue to press on, be passionate and not grow cold. Let's serve God's Kingdom together! To those who are considering to enrol into SOT: God will honor your step of faith. You will reap unexpected rewards, just like I did."