God's Grace Changes Everything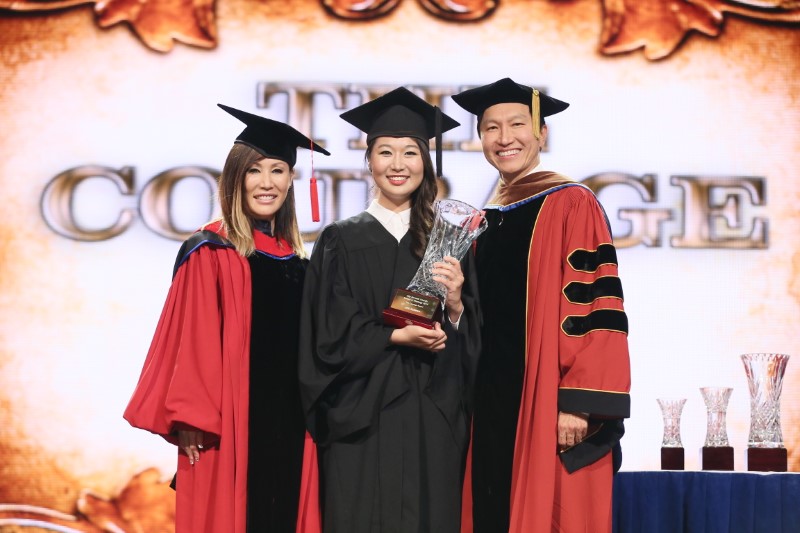 Stubborn, willful and suffering from depression, Winner of the Courage Award SOT 2015 Grace Cho finds herself completely changed from inside out when she enrolled for SOT the second time round.
By Beverly Ng
If God brings you to it, He will bring you through it. This is one powerful line that sums up the life and times of 31-year-old Grace Cho thus far.
The Winner of the Courage Award SOT 2015 heartily shared her thanks, giving all glory to God through an email interview as she quotes 2 Corinthians 12:9 – "Therefore most gladly I will rather boast in my infirmities, that the power of Christ may rest upon me."
God has truly been the source of Cho's strength, seeing her through her depression as well as her emotional instability and negativity. When she first enrolled in SOT in 2014, the Korean was stressed out by exams and faced a language barrier. "Seven years ago, I lost my mother to cancer. She served God her whole life faithfully as a pastor's wife. Even though I had encountered God, since that time, I was in depression and emptiness, confused and deeply disappointed in God. I tried to appear fine and happy before people but it was so tiring and I could not keep it up for long. "Because of my condition, I struggled with myself during SOT 2014," Cho recalled.
Though only obtaining a Certificate of Completion that year, Cho did not let that stop her. However difficult, she decided to come back in 2015, believing that when she obeyed God's will, only then will she find freedom. She was inspired by Pastor Bobby Chaw's sermon about being serious before God, and her attitude influenced her actions as she sought God's calling wholeheartedly.
"When my faith was being tested by suffering, I had the logos, but the knowledge alone couldn't help me to overcome, and I wondered why. Only when the Word of God became a rhema to me, quickened by the Holy Spirit, could I then break through. So that's how I received my breakthrough from depression—through the pastors' preaching and teaching. Though I have been through suffering, I was able to overcome!" Cho shares.
Since returning to Korea, Cho has been a positive impact to all around her, such that even her sister, Sun, joined SOT 2016.
According to Cho, the time spent at SOT has definitely changed her from the inside out. Once stubborn and always believing that she was in the right, her old attitude caused her to be hurt and broken-hearted many times. This year, through SOT, Cho learned about sanctification—learning to be like Jesus. Step by step, she found herself transformed by His grace daily.
Cho identifies with Peter the disciple the most as he made many mistakes but was still loved, trained and cherished by Jesus, eventually going all out to boldly preach the gospel.
Living in her newfound revelation of Christ, Cho aims to serve her home church with her gifts and talents, bringing the Great Commandment, Great Commission, the Cultural Mandate and the 15 Paradigms with her. "As long as you are serious before God, just come to SOT! You will definitely be blessed. God is always ready to bless, teach and train us. The rest is up to our response and obedience. To friends who are praying for SOT, please step out in faith. I think your first step is very important, even just signing up with an application. God started moving right after I signed up," Cho encourages fellow believers.
Leadership & Revival Seminar 2016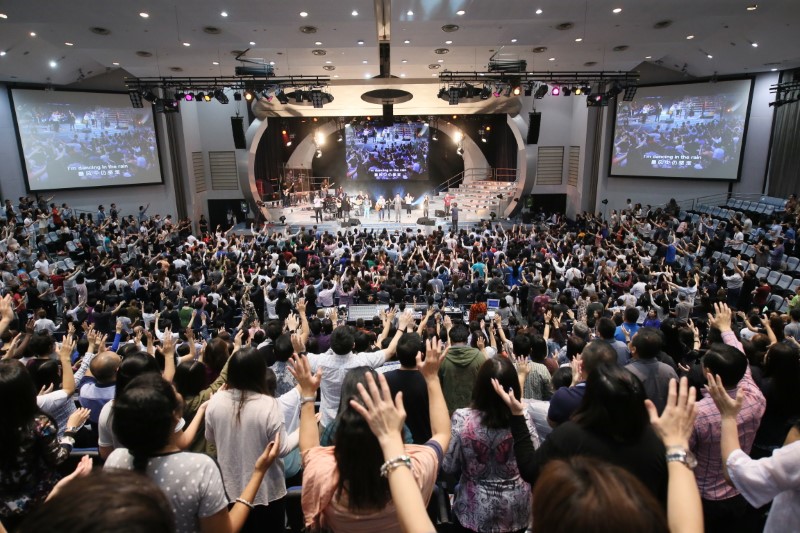 "God has given me some fresh insights into Home Cell Group Leadership & Soul-winning," read Pastor Kong Hee's social media profiles.
By Josephine Sitorus
This formed the premise for the Leadership & Revival Seminar held on 22 and 23 March 2016, the second and third official school days of the School of Theology's new school year. Gathering at Jurong West Basement 4, people came as early as 7 a.m. to pray and seek God at the start of the day. More than 300 leaders from both City Harvest Church Singapore and other affiliate and associate churches attended this event.
In the 30-hour seminar, Pastor Kong spoke to the leaders about the importance of having strong leadership in the church, relating it to church growth and revival.
He kicked off the first session by reminding them of the Great Commandment: loving God wholeheartedly, loving people fervently. "Everything we do, every vision we have, must be based on loving God and loving souls."
He went on to expound what loving people means: "How does God show His love for people? God so loved the world He gave His only begotten Son. God shows His love by saving people." The founder and senior pastor of CHC stressed that winning souls is the expression of loving God and loving people.
"Soul-winning is the primary purpose of God and the church," Pastor Kong then concluded.
Kong revealed that the key to church growth and revival is found in the home cell group systems. "Cell group leaders must be qualified and anointed to serve and lead their members," he told the people, "Everything rises and falls on leadership."
During the night session, Pastor Kong spent some time appreciating the CHC leaders, who tirelessly served in past years, despite the ongoing trial involving some of the church leaders.
To do this, he gave every cell group leader in CHC a surprise gift from him and his wife, Sun Ho. The gift was a printout of Pastor Kong's favorite photo of the church, a photo taken of the church when it first moved into Suntec Singapore. "You made this happen," he thanked the leaders.
On the second day of the conference, Pastor Kong continued to share the importance of having strong leadership in the church, and the 12 qualities that every cell group leader must have.
One important trait the cell group leader must have is loyalty, Pastor Kong shared. Cell group leaders must not just love the mission or the vision of the pastor, they must love the pastor himself. "The leaders were meant to carry [their pastor]'s burden. To bear his burden, his leaders must have a love for the man."
At the end of the day, he shared, "A strong church is dependent on good leadership and committed cell group leaders. When the pastor, cell group leaders and members are united in Spirit, values and mission, the church will move like a sharp plow in the harvest field!"
The following was the schedule for the 2-day seminar:
DAY 1
07:00 – 08:00 Morning Prayer Meeting
08:45 – 09:15 Praise & Worship
09:15 – 09:55 Session 1 – Church Growth & Revival
10:10 – 10:50 Session 2 – The Urgency of Soul-winning
11:05 – 11:45 Session 3 – Successful Home Cell Groups
12:00 – 13:00 Session 4 – The Caring System
20:00 – 22:30 Night session
DAY 2
07:00 – 08:00 Morning Prayer Meeting
08:45 – 09:15 Praise & Worship
09:15 – 10:50 Session 5 – The Cell Group Leader
11:05 – 12:40 Session 6 – Counselling in Home Cell Groups
12:40 – 13:00 Photo-taking
Message
Dear Friends,
Whenever God issues a call, He is looking for history makers. And He found 20 of them on 7 May 1989. These youth had nothing more than hearts bursting with expectation as they gathered together that day to start City Harvest Church (CHC). They were responding to the seed of a vision God had dropped into my heart in 1986—to raise up a whole new generation of believers who will impact the nations for Jesus. We believe that God wants to grow a church that is Christ-like, full of faith and the Holy Spirit.
By the grace of God, City Harvest Church had an average of 17,325 attendees in the month of December 2014 and has mission outreaches spanning more than 28 nations. God wants to move through local churches to bring revival and blessing to the world; hence, our desire is to see strong local churches built to fulfill God's plan. That is the heartbeat of the School Of Theology (SOT). We long to see not just more workers sent out to fulfill God's purposes, but "trained" workers, deployed to be carriers of God's Spirit wherever they go.
As you read this, you need to ask yourself these questions:
"Am I trained?"
"Am I equipped to be a worker of the kingdom both in the church and on the field?"
My prayer is that you will be inspired to see SOT as the answer to these questions. I pray that you will consider enrolling in our training programs because your time at our Bible school will transform your life.
Your dear friend,
Kong Hee
Founder School Of Theology