God's Grace Changes Everything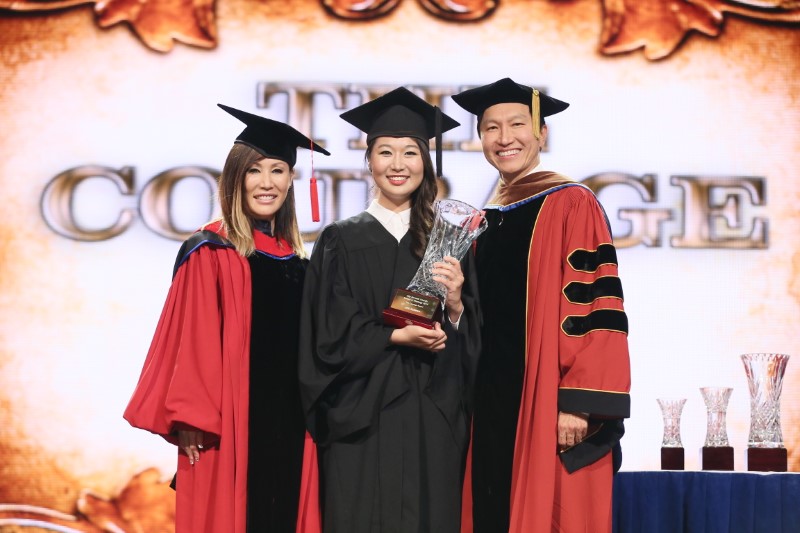 Stubborn, willful and suffering from depression, Winner of the Courage Award SOT 2015 Grace Cho finds herself completely changed from inside out when she enrolled for SOT the second time round.
By Beverly Ng
If God brings you to it, He will bring you through it. This is one powerful line that sums up the life and times of 31-year-old Grace Cho thus far.
The Winner of the Courage Award SOT 2015 heartily shared her thanks, giving all glory to God through an email interview as she quotes 2 Corinthians 12:9 – "Therefore most gladly I will rather boast in my infirmities, that the power of Christ may rest upon me."
God has truly been the source of Cho's strength, seeing her through her depression as well as her emotional instability and negativity. When she first enrolled in SOT in 2014, the Korean was stressed out by exams and faced a language barrier. "Seven years ago, I lost my mother to cancer. She served God her whole life faithfully as a pastor's wife. Even though I had encountered God, since that time, I was in depression and emptiness, confused and deeply disappointed in God. I tried to appear fine and happy before people but it was so tiring and I could not keep it up for long. "Because of my condition, I struggled with myself during SOT 2014," Cho recalled.
Though only obtaining a Certificate of Completion that year, Cho did not let that stop her. However difficult, she decided to come back in 2015, believing that when she obeyed God's will, only then will she find freedom. She was inspired by Pastor Bobby Chaw's sermon about being serious before God, and her attitude influenced her actions as she sought God's calling wholeheartedly.
"When my faith was being tested by suffering, I had the logos, but the knowledge alone couldn't help me to overcome, and I wondered why. Only when the Word of God became a rhema to me, quickened by the Holy Spirit, could I then break through. So that's how I received my breakthrough from depression—through the pastors' preaching and teaching. Though I have been through suffering, I was able to overcome!" Cho shares.
Since returning to Korea, Cho has been a positive impact to all around her, such that even her sister, Sun, joined SOT 2016.
According to Cho, the time spent at SOT has definitely changed her from the inside out. Once stubborn and always believing that she was in the right, her old attitude caused her to be hurt and broken-hearted many times. This year, through SOT, Cho learned about sanctification—learning to be like Jesus. Step by step, she found herself transformed by His grace daily.
Cho identifies with Peter the disciple the most as he made many mistakes but was still loved, trained and cherished by Jesus, eventually going all out to boldly preach the gospel.
Living in her newfound revelation of Christ, Cho aims to serve her home church with her gifts and talents, bringing the Great Commandment, Great Commission, the Cultural Mandate and the 15 Paradigms with her. "As long as you are serious before God, just come to SOT! You will definitely be blessed. God is always ready to bless, teach and train us. The rest is up to our response and obedience. To friends who are praying for SOT, please step out in faith. I think your first step is very important, even just signing up with an application. God started moving right after I signed up," Cho encourages fellow believers.